Link to the sign-up sheet: https://forms.office.com/r/VvdcEFuGbQ
아래 링크 통해서 자세한 내용 확인부탁드립니다.
Details of Asian American-centered Digital Collage Workshop.docx
Hello, my name is Eunjin Kim, and I am a Ph.D. candidate in art education at Penn State University.
I am currently recruiting participants for research with East and Southeast Asian American undergraduate students creating collaborative digital collage artwork together through a six-week-long workshop.
It would be a great opportunity to learn more about the stories and narratives of Asian American communities and form solidarity together through engaging in the digital art-making process.
Your participation would mean a lot to bring the topic and experiences of Asian American undergraduate students to the forefront.
If you have any questions, please don't hesitate to ask. euk469@psu.edu
Please feel free to share the poster with whoever would be interested in participating in the workshop!
I look forward to hearing back from you!
Warmly,
Eunjin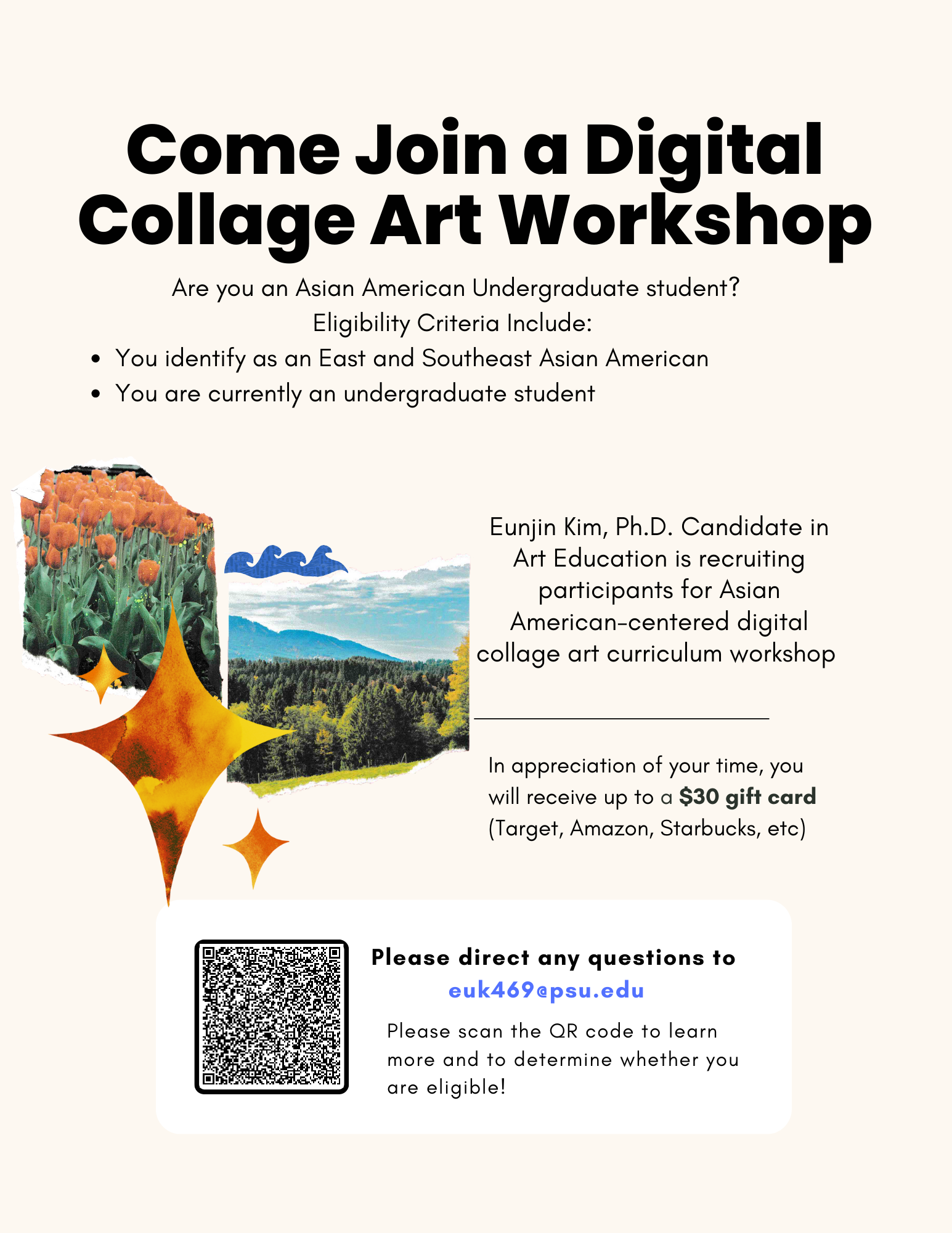 ">Link to the sign-up sheet: https://forms.office.com/r/VvdcEFuGbQ




아래 링크 통해서 자세한 내용 확인부탁드립니다.

Details of Asian American-centered Digital Collage Workshop.docx







Hello, my name is Eunjin Kim, and I am a Ph.D. candidate in art education at Penn State University.

I am currently recruiting participants for research with East and Southeast Asian American undergraduate students creating collaborative digital collage artwork together through a six-week-long workshop.




It would be a great opportunity to learn more about the stories and narratives of Asian American communities and form solidarity together through engaging in the digital art-making process.




Your participation would mean a lot to bring the topic and experiences of Asian American undergraduate students to the forefront.

If you have any questions, please don't hesitate to ask. euk469@psu.edu

Please feel free to share the poster with whoever would be interested in participating in the workshop!




I look forward to hearing back from you!




Warmly,

Eunjin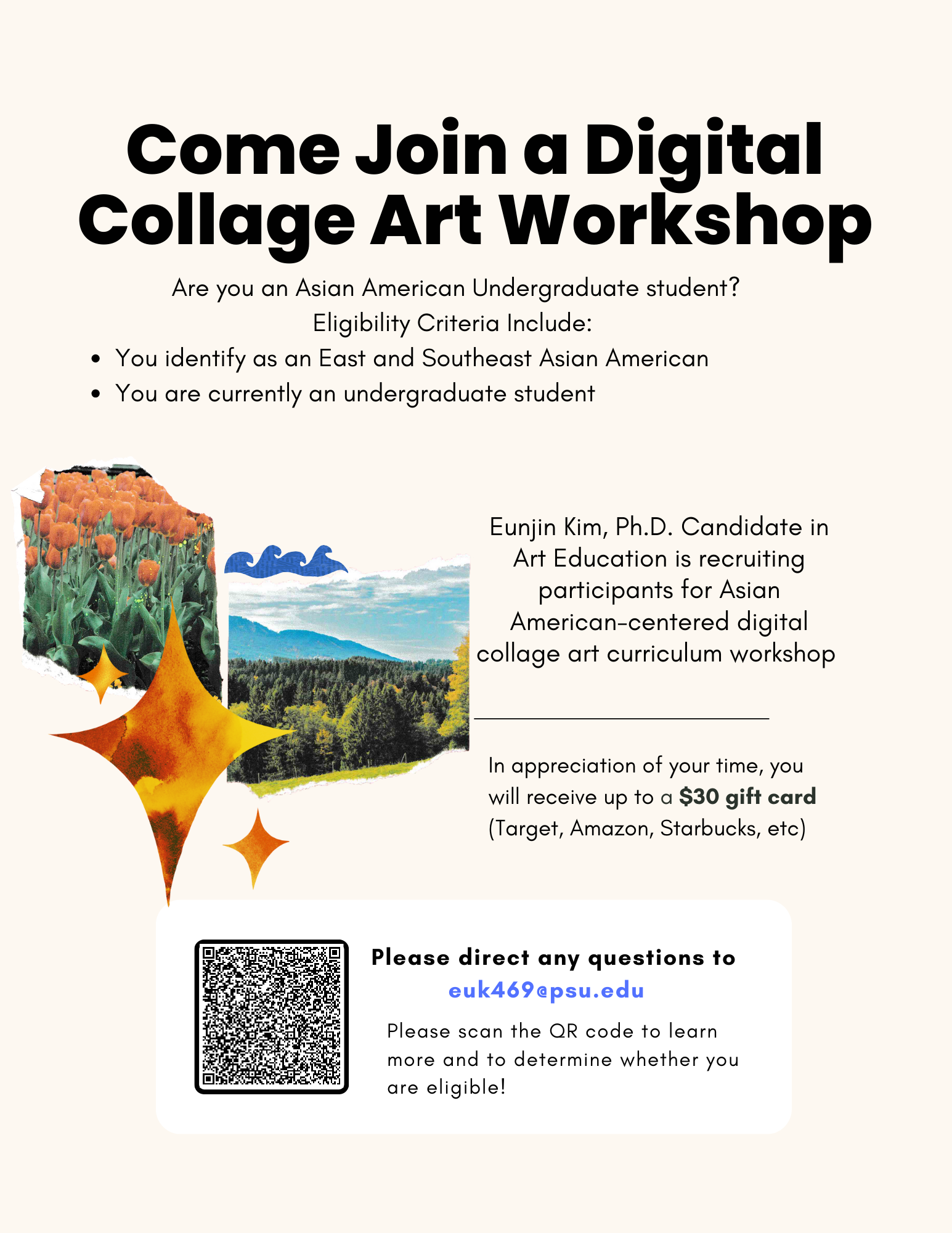 ">

아시안 아메리칸 학부생 (동아시아 & 동남아시아) 대상 디지털 콜라주 아트 워크샵 참여자 모집

안녕하세요.

펜스테이트 미술교육과 박사 과정생 김은진 입니다.

현재 대학교에 재학중인 아시안 아메리칸 학생 (동아시안 및 동남아시안 아메리칸) 을 모집중입니다.

약6주간 매주 1~2회 1시간~1시간 반 참여하며 여러 아시안 아메리칸 학부생들과 교류가 가능한 워크샵에 참여하고자하는 학생들을 모집중입니다. 주변에 참여 가능한 학생들 있다면 많은 참여독려 부탁드립니다.




참여하시고 30불 기프트 카드 받아가세요.




Link to the sign-up sheet: https://forms.office.com/r/VvdcEFuGbQ




아래 링크 통해서 자세한 내용 확인부탁드립니다.

Details of Asian American-centered Digital Collage Workshop.docx







Hello, my name is Eunjin Kim, and I am a Ph.D. candidate in art education at Penn State University.

I am currently recruiting participants for research with East and Southeast Asian American undergraduate students creating collaborative digital collage artwork together through a six-week-long workshop.




It would be a great opportunity to learn more about the stories and narratives of Asian American communities and form solidarity together through engaging in the digital art-making process.




Your participation would mean a lot to bring the topic and experiences of Asian American undergraduate students to the forefront.

If you have any questions, please don't hesitate to ask. euk469@psu.edu

Please feel free to share the poster with whoever would be interested in participating in the workshop!




I look forward to hearing back from you!




Warmly,

Eunjin